We have a lot to talk through in this new part of my
Animal Crossing: New Leaf
challenge/game, today. If you play the game as well, feel free to join in but don't forget to tell me in a comment.
You can find the questions
here
.
8

my favorite building on main street
I was really happy about the new addition of stores you can upgrade and generally work with in this game and it's actually a lot of fun to make the main street a little busier with every update. I also really welcomed that most of the stores in the game are gathered there now, leaving more space for the mayor to decorate freely.
However, answering the question, my favorite buildings on main street would be the
museum
, the
garden store
(no photo because I already upgraded my main street and the garden store is included in T&T Emporium now)
and the
dream suite
(once you built them)
.
9

my favorite K.K.Slider song
I actually have a couple of favorite songs and my mayor Roo just recently got a badge from old Phineas for being such an enthusiastic listener... truth to be told I forget about the acoustic session on Saturday nights more often than I attend them, but the game would be a lot more boring without the ridiculously large choice of 91 songs the dog with the guitar can offer you to play. My personal favorites are
Bubblegum K.K.
,
I Love You
,
Spring Blossoms
and
Stale Cupcakes
.
10

my favorite Public Work Project
There are honestly so many public work projects that I adore to no end...
I didn't include the special work projects like buildings on main street, to make the choice a little smaller, but it still was rather hard to decide. When I started to plan Faylea I went to a lot of overviews and thought about which PWP shouldn't be missing so the whole process shouldn't feel that new to me. You can't build every project there is to choose from in the game and always end up with decisions like that.
One of my favorite parts in the whole public work project collection are the fairy-tale items - especially because this is part of my town's theme-in-progress. Beside that I crown the café to my favorite PWP. I really, really liked Brewster ever since my first experiences in Wild World and the new feature of being able to job there is just too cute to ignore.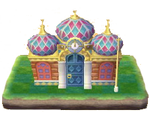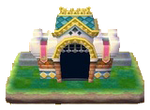 11

my favorite Gyroid
Except for Lloid, the cute little thing that helps you raise the funds to build your public work projects or helps as a supply manager on the Island, I never was the type to include gyroids in my interior design ideas. Most of them look kind of weird or creepy and I never seem to have good luck with their sounds either. One of my friends actually has a collection in one of his additional rooms in the museum and they sound quite harmonious for gyroids in that special gyroid-concert-hall... but I never got the right ones for that.
The desicion therefore was rather easy because the only gyroids that contrast from that are the four special presents you can get from Brewster for helping him out at the café in the part-time job mini-mission I mentioned above. They are called Brewstoids, look like their inventor and their voices include sounds you'd hear in the café like coffe pouring, placing a cup on a saucer and even chirping sounds from Brewster himself.

As always I'm really curious what your favorites in today's categories are and would be delighted to hear what you think about this challenge and the different topics of this update.
Which is your favorite work project or town theme?
Tell me in a comment below.