As lively as ever, part four of my questionare challenge about everything you can find in the universe of
Animal Crossing: New Leaf
.
As always I invide you to join me, for an overview of all questions click
here
.
12 my favorite villager species
I generally love the large choice of different animal species that wander around in the world of
Animal Crossing
. Some species are just found as special NPC characters and sometimes I'm almost sad that they are the only representatives of their species. But I guess that is one of the trades that makes them special in the end, as well.
I decided on my favorite animal species, only counting the villagers that can move in and out of your town and that you interact with as neighbours.
To make it easier to decide between all the original and cute species, I tried to compare how many of the available villagers of a specific species I liked and arrived at the following result:
My favorite villager species are Octopus, Deer and Squirrel.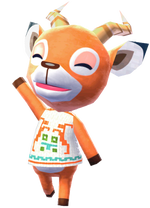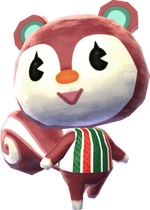 13 my favorite villager character
I actually came to like all the different villager character types.
All in all you can decide between eight different types, four for each gender.
The character types for female villagers are snooty, normal, peppy
and
uchi
(which the majority translates as

big sister

, too)
.
Male characters on the other hand are either cranky, lazy, jock or smug.
Even though villagers with a cranky or snooty attitude seem hard to befriend with and aloof, sometimes even rude at first even they transform to actual sweethearts once you befriend with them.
Just like I did it while deciding on my favorite species, I tried to compare which character type are most of the villagers I like - just to actual get to a decision because I swear, I like them all as much.
My result crowns normal and lazy villagers as my favorite character types.