Seeing that I didn't give a lot of hints and news about the concerts I went to this year, I thought it was about time to gather these and write a few words about them.
This year was the first year I spent so much money - and time - on concerts but I enjoyed them all so much and looking back I just have a few regrets...
Since I'm a quite honest concert-goer and rather enjoy the experience and moment than taking photos like a madman - especially when it's more often prohibited than not - I rarely take pictures at the venue or anything at all.
In my opinion, I paid enough money on the time I'm going to spend there, so I'm gonna make it a good time and enjoy the moment instead of risking to get kicked out for some blurry photos.
But that is - as stated - just my opinion and I'm rather thankful to people who think differently - I can look up some good concert shots later then; hehe.
That being said, this post will contain more words than images.
Starting with the first concert of the year; back in February, when I got the chance to see the Korean boyband VIXX with my best friend
Cat
and another adorable friend of her.
We met up before the concert and got some Korean lunch before we went to the venue and it was the first time I went to a venue with a car - god bless.
The organization outside the hall was rather chaotic but I guess it was nice that the fandom-rooted helpers tried so hard.
The concert itself was nice. We found some spare area to stand where we actually had so much space - we could dance along and the band performed good.
I was impressed by Ken's and Hakyeon's voices, since they were even stronger and more prominent than I expected them to be.
In March, when I went to Japan, two artists who were ironically Japanese - went to Berlin and I was quite sad I couldn't join in on these two concerts... but Japan was definitely worth it, so we'll cut the complaining.
Next up was a concert I actually wrote a blogpost about; the
Distant Worlds
concert in April, where they played songs from Final Fantasy!
I actually went to the Hanami Festivale at the Gärten der Welt before I met my best friend
felix
and another classmate to go and see this premiere. You can read more about it, following the link I posted above.
Following was May's concert that I was probably most excited about the whole year: B.A.P in Düsseldorf.
Looking back this is still one of my favorite memories of this year. I shared a room with two friends from university and I met another friend from Finnland who came over to see them as well.
I was a VIP ticket holder, my number somewhere between 450 and 500 and still I managed to get into third row, where I met even more funny and lovely people. The concert was a blast and it made me so happy that the sole memory still makes me tingle a bit.
One day before the concert I lay in bed with fever but in the end I went nonetheless. Risky and not really healthy but I didn't care and I'm really happy I did it. My fever was gone after the concert and I felt just great. I can't even thank these 6 Korean guys enough - it's a bit weird, isn't it?
Last on the list for this part is June's concert - a band that I join on concerts way too often... rather not. girugamesh's monster tour stop in Berlin was my third time seeing them but their music and show is just too amazing to let this opportunity pass. another plus; I went there with a friend I've known since we were kids and it was just great to share this with him.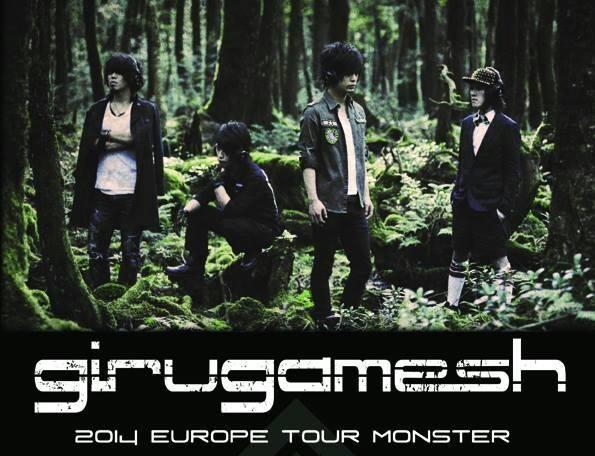 Looking at this first part I realize that my taste in music is more diverse than it might seem to some people around me... well; now you know.
Did you go on a concert this year?
What was your favorite experience?
Any questions? Ask in a comment below.