I started into vacation straight out of the busy hustle of university life only two days after my last exam for the summer semester but this allowed me to enjoy a couple of days with one of my dearest friends who spent 6 months in Seoul to study abroad.
As one of our first meetings said friend,
felix
, invited the boyfriend and me over to the university he had studied at to show us around the campus.
The EWHA womans university, 이화여자대학교
(iwha yeoja daehakgyo)
- it's usually shortened to 이대
(idae)
, which also gives name to the closest subway station on Line 2 - is pretty popular among international students and the campus is really worth a visit.
My university at home doesn't really have a closed campus, instead the buildings are spread around the area of two tram stations and one subway station.
So seeing a neatly arranged campus like this was a nice change for me - beside the fact that Ewha's campus looks really, really nice.
It has a lot of small mountains which make it quite a struggle to walk up and down to every building but I really enjoyed our small tour, even if it was crazily hot this day.
The area between the subway station and the university's campus is paved with all sorts of stores and I guess especially students can shop there easily. Sadly I didn't really take photos of these, beside a memorial that caught my attention. It's dedicated by an university student to remember the vicitms of Japanese military sexual slavery during World War II. It's still a really important topic in the Japan/Korea debate.
After our small tour we flet from the heat into a café, had some talks and shared delicious 팓빙수
(Patbingsu)
, a traditional Korean summer dessert made of shaved ice, sweet condensed milk, red beans and 떡
(Tteok)
- the Korean version of mochi. Other ingredients like fresh fruits or cream depend on the kind of bingsu you order. Though the taste of crushed ice was a bit bland at first and the desserts in Korea tend to be a lot less sweet than what you find on the menu in European countries, I came to really like it and tried all sorts of it during my stay.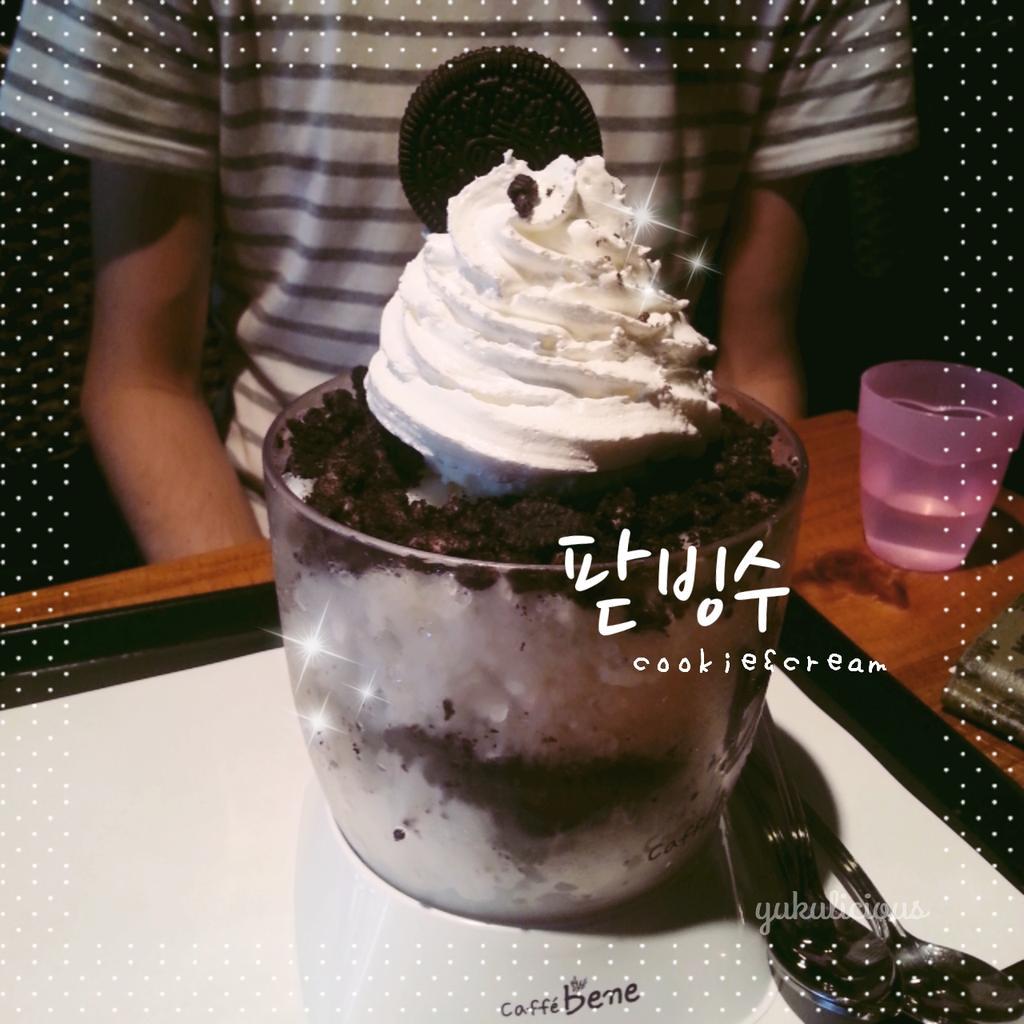 Oreo Cookie&Cream Bingsu at caffébene.
After we couldn't meet the day before because of heavy rain it was the first time to finally be reunited and we went to eat Pizza together with another of my friends who was still in Seoul around this time, too. After our first plans to meet the day before were literally washed away, I'm sure this afternoon was the greatest way to start off my vacation.
Would you consider studying abroad?
Tell me in a comment below.